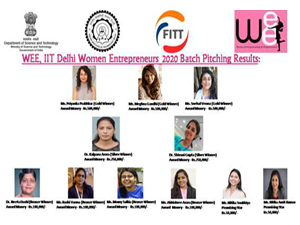 The Department of Science & Technology (DST) Govt of India has honored the youngest woman entrepreneur Abhishree Arora (IIT Delhi) with a Bronze Award under an IIT Delhi initiative to help women from college going students to middle-aged housewives to embrace entrepreneurship as a viable, fulfilling career option.

The initiative is known as Women Entrepreneurship and Empowerment (WEE) 5 is supported and sponsored by the DST.
Ms. Arora started her own startup company in the Ed-tech space on intelligent adaptive learning solutions using AI & ML to improve the learning outcomes in K-12 segments and reduce dropout rates.
She was among the 11 women who were honored and awarded by the DST and were given cash awards totaling Rs. 25 lakhs.
Some of the others are Ms. Priyanka Prabhakar whose STEM (Science, Technology, Engineering, and Math based) toys and board games to engage young minds during the COVID 19 lockdown translated into sales of Rs. 40 Lakh for her products; Ms. Meghna Gandhi for working with underprivileged women in Vadodara and creating natural textiles and COVID 19 related accessories, recording sales of Rs. 25 Lakh; and Ms. Snehal Verma who worked with the fishermen of Chhattisgarh, Telangana, and AP and helped them improve their yield of fishes during the COVID 19 outbreak by helping them deploy their Internet Of Things (IoT) machine that helps improve water quality and fish harvest.
Ms. Kalpana Arora, a Ph.D. in wastewater management from IIT Delhi, won a Silver award for her products like sanitizers from wastewater. The second silver winner was Ms. Shivani Gupta (Ph.D.), who has developed a patent-applied wound-healing technology that is now under clinical trial at AIIMS (New Delhi). The product has already received acclaim from doctors from various hospitals, and pre-orders for the products have already been booked.
The bronze award winners were Ms. Neeta Doshi (Ph.D.) for creating a machine to convert air particles to rain, Ms. Rashi Verma who is working in the field of AR for farmers, Ms. Momy Saikia working in the field of domestic waste management, and Ms. Abhishree Arora (the youngest entrepreneur from IIT Delhi) who is working on simplifying mathematics for kids.
Awards were also given to two promising stars Ms. Nitika Sonkhiya and Ms. Ritika Amit Kumar for demonstrating extraordinary entrepreneurial skills and creating business models that generated revenues even during the COVID 19 lockdown period.
The awardees were coached and mentored by experts from various fields, while participants came from 16 states.