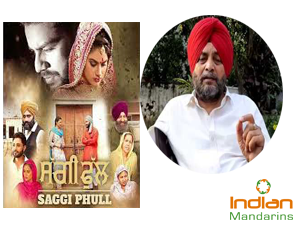 New Delhi (11.02.2021): True civil servants, like all knowledge seekers, always find their calling or trade - more so after retirement in their golden age.

One such civil servant is former IAS officer Bakhtawar Singh Shergill. A year after his retirement in February 2020, he is ready with his new film on the police-politician nexus. The film is based on true stories and woven around the theme of the suffering of the common people at the hands of the nexus.
Even while in service, Singh pursued his creative instincts. He had made a much-appreciated film called 'Saagi Phul' in 2018, centered around the life of a small and marginal farmer. The film, covering the life of the farmer and his family from 1982 to 2017, shows how a farmer, even with a holding of 1.5 acres of personal land and two acres of contract land, can earn enough for his family without falling into debt traps of money lenders and commission agents - and thus avoid suicide in desperation.
'Saagi Phul', made by Singh with the kind and wholehearted support of his son Amitoz Shergill, is a great message to farmers on traditional agriculture and family labor in the current context of a mounting agrarian crisis in the northern food basket of the country where farmers are up in arms against Government's agriculture policies and its new farm laws.
The former IAS officer is said to have been always sensitive to the lives of peasants and laborers. This sensitivity reflected in his writing in Punjabi books like 'Paar jhana ton osda dera' and 'Jogi Ravi kinare rehnda'.
He took to the big screen to take his message easily to the masses.
Singh has also composed numerous lyrics for famous Punjabi singers like Nooran sisters, Yakoob Khan, Saida Begum, and others, besides writing the story, screen scripts, and dialogues for his own films.
(By MK Shukla & Rakesh Ranjan)