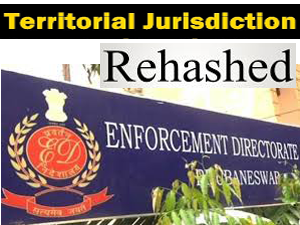 New Delhi (11.01.2021): The Directorate of Enforcement is expanding and consolidating its footprints to take care of its rising responsibilities under FEMA, PMLA, and FEO Act. This will also mean more openings and better opportunities for AIS officers concerned.

Recently, 10 Assistant Director rank officers were promoted as deputy directors of enforcement for the vacancy year 2020. They are P Radhakrishnan, P Vinod Kumar, Mrs. P Nandini, Rajesh Kumar M Nair, Shubhendu Parthi, Diptesh Mondal, Benjamin SN Chattair, Mrs. Padma, VG Thomas, and Mrs. Krishna Jain.
Indianmandarins has learned that the ongoing expansion of the ED's territorial jurisdictions involves substantial restructuring of cadre strength. Plans are afoot to create new posts in the rank of Additional/Joint Directors and Deputy Directors to cater to the personnel requirements of Zonal and Subzonal Offices.
Presently, ED has a sanctioned strength of 2,064 posts including five Special Directors, 27 Joint Directors. Since even these sanctioned posts are short of personnel, the urgency for picking up more officers to fill the existing vacancies and to meet the requirements of new offices can't be overstated.
In line with its ambitious expansion plans, the ED recently set up two new zonal offices at Bhopal and Gurugram and raised the status of sub-zonal offices at Raipur and Bhubaneshwar to the zonal level, and opened several sub-zonal offices.
Each of the seven North Eastern States excluding Assam, which earlier functioned under the Guwahati Zonal Office, will have subzonal offices in their respective capitals.
It may be noted that Regions and Zones are headed by Special Director and Additional/Joint Director level officers whereas Subzonal Offices (SZOs) is headed by Deputy Director level officers.
Although ED officials have all India jurisdiction for statutory functioning and the territorial jurisdiction of various offices do not restrict them from performing statutory functions in other jurisdictions as and when required, it is pointed out that for ensuring good administrative practices, it is better that officers belonging to zones and subzones restrict themselves to their areas of functioning.
The revised/expanded list of ED offices is as follows:
Northern Region (Chandigarh): Six ZOs - Chandigarh-I and Chandigarh-II, Gurgaon, Jalandhar, Jaipur, Srinagar, Jammu, and two Sub Zonal Offices at Shimla & Dehradun;
Central Region (Delhi): 5 ZOs - Delhi-I, Delhi-II, Lucknow, Patna & Ranchi, and one Sub Zonal Office (SZO) in Allahabad;
Eastern Region (Kolkata): 5 ZOs - Kolkata-I, Kolkata-II, Bhubaneshwar, Guwahati-I & Guwahati-II, and seven newly carved out SZOs (Gangtok, Agartala, Aizawal, Imphal, Itanagar, Kohima & Shillong).
Western Region (Mumbai): 6 ZOs - Mumbai-I, Mumbai-II, Ahmedabad, Bhopal, Panaji & Raipur and 5 SZOs (Nagpur, Surat, Indore, Goa & Chhattisgarh)
Southern Region (Chennai): 5 ZOs - Chennai-I, Chennai-II, Bangalore, Kochi & Hyderabad and 4 SZOs (Madurai, Mangalore, Kozhikode & Vishakhapattanam).
(By Rakesh Ranjan)