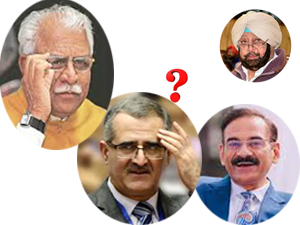 Haryana CM Manoharlal Khattar is said to be inclined to appoint Former Chief Secretary (Haryana) Depinder Singh Dhesi (Retd IAS:1982:HY) as his Chief Principal Secretary.
Officials say that Dhesi may replace Rajesh Khullar (IAS:1988:HY) who is leaving for the USA to take up his new assignment in World Bank as Executive Director.
Khattar is said to have been inspired in this regard by Capt Amrinder Singh who had earlier appointed former Chief Secretary S Suresh Kumar (Retd IAS:1983:PB) as Chief Principal Secretary to the CM, Punjab.
The speculations over Dhesi's next assignment gathered momentum after he resigned for the coveted position of Chairman of Haryana Electricity Regulatory Commission (HERC) last night.