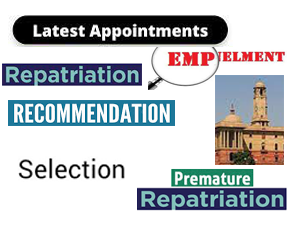 New Delhi (10.01.2022): Notifications issued by the Department of Personnel & Training (DoPT) on Monday are as follows:-

Jogiranjan Panigrahi (IRS C&CE:1990) was prematurely repatriated to his parent cadre on personal grounds with the imposition of the extended cooling-off condition. Presently, he is Joint Secretary, Ministry of Textiles.
Koottil Variam Ajith (Indian Supply Service:2009) was appointed as Deputy Secretary in the Ministry of Defence for a period of four years.
A K Digambar Fulzele (IPS:2001:HP) was appointed as Inspector General in Border Security Force (BSF) for a period of 05 years.