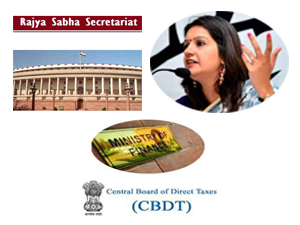 New Delhi (10.03.2021): The issue of a huge number of vacant posts of Commissioners, Principal Commissioner, and above in the Income Tax Department was sought to be raised by a Rajya Sabha Member of Parliament.
Citing it as a matter of urgent public importance, Rajya Sabha MP Priyanka Vickram Chaturvedi on 9 March 2021 wrote to the Secretary-General, Rajya Sabha seeking a slot for raising the question in the Upper House.
"It is a matter of serious concern that there are about 400 vacancies waiting to be filled at the level of Commissioners and above in the Income Tax Department, "her letter stated.
She further elaborated: "Most of these vacancies have been pending for lack of initiative by the CBDT which itself has been struggling with a lot of vacancies in the past few years. This situation requires urgent attention also because of the fact that the Indian economy is facing major challenges and collection of revenue should be the top priority of the Government so that money can be put to use for the welfare of the common citizen."
ALSO READ:
CBDT: Will it get four new members or just three?
https://www.indianmandarins.com/news/cbdt-will-it-get-four-new-members-or-just-three-/22071
CBDT Chairman Modi gets third extension
https://www.indianmandarins.com/news/cbdt-chairman-modi-gets-third-extension/22154
Ideas on tax surveillance mushroom in official debates
https://www.indianmandarins.com/news/ideas-on-tax-surveillance-mushroom-in-official-debates/21997
Foreign Asset Investigation Units: IRS Cadre will face a demand surge
https://www.indianmandarins.com/news/foreign-asset-investigation-units-irs-cadre-will-face-a-demand-surge/21924