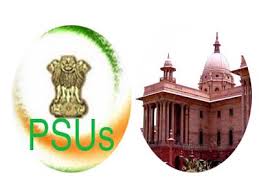 New Delhi (26.02.2021): The government is said to be working on a plan to revise the scope of performance-related pay (PRP) in such a way that if a CPSE fails to achieve targets like m-cap, return on capital, asset turnover ratio, CAPEX, and production targets, employees will lose on their PRP gains, apart from a rating downgrade for the enterprise concerned.

Reportedly, the government may include the revised PRP parameters in the FY22 MoUs to be signed between CPSEs and administrative ministries.
It is claimed that the revised PRP criteria may encourage CPSEs to improve their performance which could, then, trigger the interests of investors.
After PM Narendra Modi stated that the government has no business to remain in business, FM Nirmala Sitharaman's budget initiative to open the CPSEs for private investments on a large scale has received a shot in the arm and various administrative ministries are said to be working on plans to improve the performance of CPSEs under their wings before they are opened for private investments.
These plans are centered around the revised PRP matrix that reportedly gives different marks for different parameters from the total assigned marks of 100. For instance, asset turnover, return on capital employed, and m-cap will carry 5 marks each. The EBITDA as a percentage of company revenue will fetch 10 marks. The companies achieving the production target will get 20 marks instead of 10 earlier; and so on.
Currently, CPSEs are entitled to peg the PRP at 150% of the basic salary for CMDs and at 40% of the basic pay of the lowest grade staff. The companies achieving an 'excellent' grade of over 90 scores are eligible for 100% PRP; those scoring 'very good' and 'good' get 80% and 60% PRP.
Official statistics indicate that 250 CPSEs employing 1.5 million workers had a salary outgo of ₹ 1.53 lakh crores in FY19.