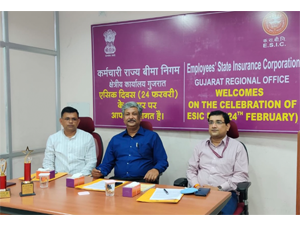 New Delhi (09.06.2021): Family members of ESIC-insured persons (IPs), in case of the latter's death on account of Covid, will almost have the same benefits that the IPs are entitled to in case of work-related injury and death.
In line with its continuing welfare measures to enable the poor to cope with the Covid pandemic, the government has announced that family members of the Covid-dead IPs will receive the same benefits of monthly pension and on the same scale as received by the dependents of insured persons who die as a result of employment injury.
The monthly pension payment will be @90% of the average daily wages of the IPs during their lifetime.
The scheme will be effective for a period of two years from 24/03/2020.
Following are the eligibility conditions:
#The deceased IP must have been registered on the ESIC online portal at least three months prior to the diagnosis of COVID disease resulting in death.
#The deceased IP must have been in employment on the date of diagnosis of COVID-19 disease and contribution for at least 70 days should have been paid or payable in respect of deceased IP during a period of a maximum of one year immediately preceding the diagnosis of COVID-19 disease resulting in death.
Ratnesh Kumar Gautam, Additional Commissioner & Regional Director ESIC Regional Office, Gujarat, said "Earlier, Atal Beemit Vyakti Kalyan Yojana (ABVKY) was introduced to give relief to Insured person who became unemployed due to COVID by giving 50% of average per day earning for a maximum of 90 days. In Gujarat State, there are around 17 Lakhs of Insured Persons who are being served by ESIC. ESIC Hospitals in Gujarat were declared as COVID dedicated hospitals to fight this pandemic. Now, a major relief has been introduced in the form of the "ESIC COVID-19 Relief Scheme" which will give a guardian feel to the dependents of Insured Persons who died due to COVID. These benefits are provided to the workers without any additional cost to their employers".