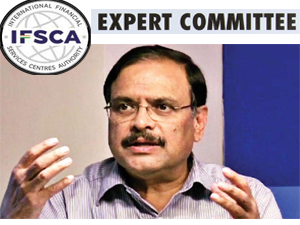 New Delhi (01.10.2021): Former Union Secretary for Environment, Forests and Climate Change C. K. Mishra (Retd IAS:1983:BH) will lead an expert committee to advise the Ahmedabad-based International Financial Services Centres Authority (IFSCA) on what it takes to become a truly Sustainable Finance Hub. The newly constituted committee headed by Mishra has eight experts members and a member secretary.

The IFSCA reasoning for inviting Mishra for the committee is that he as Union Secretary had led India's negotiations at important Forums such as the United Nations Framework Convention on Climate Change (Conference of the Parties (COP)) to assess progress in dealing with climate change; Montreal Protocol on Substances that Deplete the Ozone Layer and various other multilateral events. He had led the government initiative for air pollution mitigation in Delhi and indeed all pollution control strategies for the country.
Since India has been championing the cause of a partnered global climate action reflected in its commitment towards its intended Nationally Determined Contributions under the Paris Agreement, the IFSCA is tuning itself with the government policy and plans to turn GIFT- IFSC as a global hub for sustainable finance. A structured policy approach will help IFSC to creatively channel foreign capital into Bharat.
The committee's recommendations, and their implementation whenever they are made, may accelerate IFSCA's transformation from a purely unified regulator for financial products, financial services, and financial institutions into a green financial powerhouse.
For working out a feasible work plan, the Mishra-led committee will include leaders from international sustainable finance agencies, standard-setting bodies, funds, academia, and consultancies. Being endowed with experience and negotiating skills, Mishra may help the IFSCA earn green respectability.