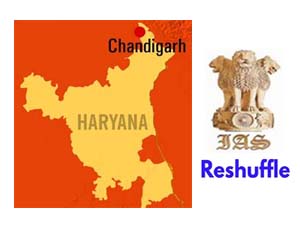 Chandigarh (23.11.2021): The Haryana Government has reshuffled four IAS officers with immediate effect. They are:

Vikas Gupta (IAS: 2001: HY) has been given the additional charge of Adviser, Civil Aviation, Haryana, and Secretary to Government, Civil Aviation Department.
Mahavir Kaushik (IAS: 2011: HY) has been posted as Panchkula Deputy Commissioner.

Pardeep Kumar (IAS: 2011: HY) has been posted as Fatehabad Deputy Commissioner.

G Anupama (IAS: 1990: HY) has been given additional charge of Principal Secretary, Health and Family Welfare Department besides Chief Administrator, Trade Fair Authority Haryana, New Delhi, and Principal Secretary, Women & Child Development Department.