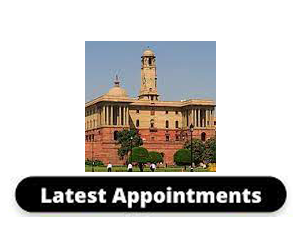 New Delhi (22.11.2021): Notifications issued by the Department of Personnel & Training (DoPT) on Tuesday are as follows:-

Amit Gunvant Bhole (lCAS:2010) was as Deputy Secretary in the Department of Revenue for a tenure ending 06.06.2023. He counts his Central deputation tenure w.e.f. 07.06.2017.. Presently, he is on 'Compulsory Wait' in the Ministry of Electronics and Information Technology.
M Saravanan (IAS:2002:BH) was appointed as Senior Research Officer in International Relations/Regional Trade or Economics, Indian Ocean Rim Association (IORA) Secretariat, Port Louis (Mauritius) for a period ending 15.12.2022 (w.e.f. 15.12.2021).

Ms Anshika Arora (IES:2010) was appointed as Deputy Secretary in the NITI Aayog for a period of four years.

Mayank Singh Chetan (CWES:2011) was appointed as Deputy Secretary in the Ministry of Development of North Eastern Region for a period ending 17.05.2024 i.e. combined 4 years tenure.


Ms Chhaya Sharma (IPS:1999:AGMUT), Director in the Central Vigilance Commission, was prematurely repatriated to her parent cadre to avail the benefit of promotion.

Ms Ajeeta Longjam (lFS:2012:MN) was appointed as Joint Commissioner in the Kendriya Vidyalaya Sangathan (Delhi) under the Department of School Education & Literacy for a period upto 10.08.2024 i.e. combined tenure of 4 years at DS level.