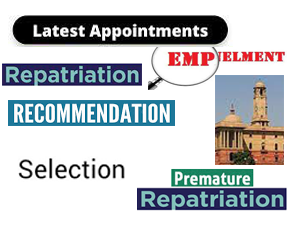 New Delhi (23.11.2021): Notifications issued by the Department of Personnel & Training (DoPT) on Tuesday are as follows:-

Tenure of Anurag (IPS:1994:TR) as Joint Director, CBI was extended for a period of six months beyond 24.07.2021.
Takhat Singh Ranawat (lFS:2007:KN) was appointed as Private Secretary to Sushri Shobha Karandlaje, Union Minister of State for Agriculture and Farmers for a period of five years.

Inter Cadre Transfer of Ms Nidhi (lAS:2013:WB) from West Bengal cadre to AGMUT cadre was cleared on the grounds of marriage to Devesh Kumar Mahla (IPS:2012:UT) w.e.f. 20th October 2021.