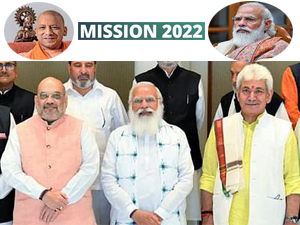 New Delhi (23.07.2021): Bharatiya Janata Party president J P Nadda is likely to reconstitute the parliamentary board of the party which has now five vacancies after elevation of Union social justice and empowerment minister Thawarchand Gehlot as Karnataka governor. But the most interesting aspect is that who will replace Gehlote and if the name of Uttar Pradesh chief minister Yogi Adityanath is also being considered.
The parliamentary board is the highest decision-making body of the ruling Bharatiya Janata Party. If sources are to be believed, Dr Virendra Kumar may take the place of Gehlot in the parliamentary board, which currently has seven members, five short of its full strength of 11 members.
Sources said that Yogi was looking to be made part of the board as this would give him more power to have his say in the ticket distribution for 2022 Assembly elections in Uttar Pradesh. However, a section in the BJP is opposed to him to be made part of the parliamentary board. Madhya Pradesh chief minister Shivraj Singh Chouhan is already in the board who was the last leader to be inducted into the top decision-making body in August 2014 by the then president Amit Shah.
The MP CM's induction took the parliamentary board's strength to 11 till 2017 when parliamentary board member M Venkaiah Naidu was elected Vice President of the country. More vacancies arose due to the passing away of three leaders -- Ananth Kumar in 2018, and Arun Jaitley and Sushma Swaraj in 2019.
Speculation is rife that the BJP president will reconfigure the board that has seven members including Prime Minister Narendra Modi, party chief JP Nadda, Union home Minister Amit Shah, Union defence Minister Rajnath Singh, Union road transport minister Nitin Gadkari, Madhya Pradesh chief minister Shivraj Singh Chauhan and BJP general secretary (organisation) BL Santhosh.
This is probably the first time that the board has had so many vacancies for so long. Apart from the national office bearers who were appointed in September 2020, the party is yet to form the national executive and the central election committee.
The constitution also stipulates that one of the members will be the leader of the party in Parliament. Piyush Goyal has been appointed as leader in the Rajya Sabha in the place of vacant position of Gehlot and another should be a general secretary in the party. The appointment of Dushyant Gautam may fulfill the obligation of general secretary and Dalit leader being made party of the parliamentary board if consensus is not reached upon the name of Dr Virendra Singh.