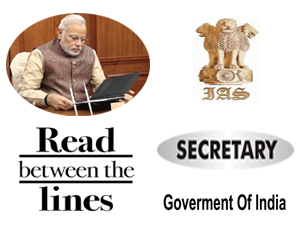 New Delhi (17.09.2021): Secretary-level vacancies in the Union Government will tot up to 20 by this end-month if one adds the number of secretaries to retire by then to the existing number of 13.

If no appointment is effected between now and end-month, it will be described as an 'unprecedented situation', even from the standard of the NDA administration.
A section of officers say that the situation affects the governance whereas others believe that the government is probably working up to issue a wholesale list to fill all the 20 vacancies at one shot to ensure effective administration.
In the meanwhile it is heard that the Prime Minister Narendra Modi is expected to convene a meeting with Union secretaries on Saturday. If true, it would assume more significance in the backdrop of a large number of vacancies to be filled ahead.
Since there is no substitute for good governance, the NDA administration will favor none but itself in urgently filling the pending vacancies. Of course, it is their choice to help themselves.
Currently, to cope with 13 vacancies, 11 union secretaries are given dual charges and one among them is handling triple responsibilities. For example, Sanjay Kumar Singh, Secretary of the Department of Administrative Reforms and Public Grievances, has the additional charge of two Ministry of DONER and Department of Pensions & Pensioners Welfare.
Among the retiring seven secretaries, Culture Secretary Raghavendra Singh is from the senior-most 1983 batch as he has been retained on contract. The other secretaries would go through their regular retirement.
Except for Raghavendra Singh, Civil Aviation Secretary Pradeep Singh Kharola, Telecommunications Secretary Anshu Prakash, Border Management Secretary Sanjeeva Kumar, Higher Education Secretary (MHRD) Amit Khare, Sports Secretary Ravi Mittal, and Secretary, National Commission for Scheduled Castes, Sushil Kumar are the ones who will be retiring in the natural course this month.
It is pointed out that one of the factors that has delayed the government decision on fresh secretarial appointments could be due to its wait for review results of empanelment of officers from 1988 and 1989 batches.
Historically, it is pointed out, whenever the NDA administration has faced a situation like the present one, it not only fills the vacancies but also effects lateral shifts. If this assessment is correct, it may not be a surprise if secretaries holding creamy portfolios are moved and replaced by the ones working on the margins.
(By Rakesh Ranjan)
ALSO READ:
Thirteen Secretary-rank posts vacant at Centre: Despondence grips IAS officers empanelled for Secretary post (16.09.2021)