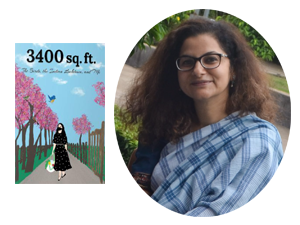 Ms Chandan Tripathi's book '3400 Square Feet' is a beautifully crafted memoir of a working woman and mother that exposes readers to the various strands of living and struggling in these pandemic times. It is a very real account of a common woman rediscovering the joy of living amid the lockdown.

Belonging to the state administrative service of Chhatisgarh, she has been a Sub-Divisional Magistrate for 7 years in Surguja, Bilaspur, and Mungeli districts. She has also worked as Joint Director in the state Health Department and as the Chief Executive Officer of Zilla Panchayat in Raigad district.
She holds an Honours degree in Botany from Banasthali University and a Master's degree in Forestry, Wildlife, and Environmental Sciences from a Central University. A naturalist at heart and a firm believer in the culture of India, Chandan Tripathi has done research on 'Tissue Culture of Bambusa Nutans' from Sal Forest Research Institute in Jabalpur. She has also worked on medicinal plants and has written several articles for newspapers including The Hindu, Echo, Morning India, and Punjab Kesari.