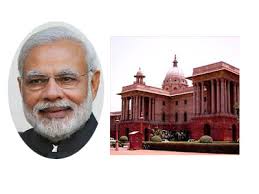 New Delhi (01.04.2021): As reported first by Indianmandarins on 02 September 2020, and subsequent to the formation of the novel Capacity Building Commission (CBC), the NDA administration on Thursday announced the appointments of its Chairman, three members, and the Secretary. The Commission will function under the Department of Personnel & Training.
Quality Council of India (QCI) Chairman Adil Zainulbhai has been appointed as the first CBC Chairman. Ramaswami Balasubramaniam (Founder, Swamy Vivekanand Youth Movement) is appointed as Member (HR) and former BMC Commissioner Praveen Pardeshi (Retd IAS:1985:MH) is made the Member (Administration). Presently, Pardesi is working as Global Programme Coordinator for Defeat-NCD Partnership under United Nations Institute for Training and Research.
Further, Hemang Jani is appointed as the Secretary to the CBC. Earlier, Jani worked as a Senior Private Sector Specialist in the World Bank.
ALSO READ:
Capacity Building Commission soon: Cabinet approves Mission Karmayogi (NPCSCB)

Cabinet approves "Mission Karmayogi"- National Programme for Civil Services Capacity Building (NPCSCB)