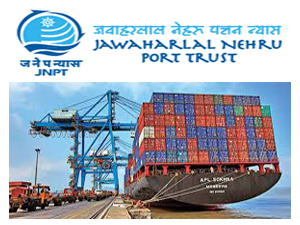 April 03, 2021: Despite the Chinese virus, Jawaharlal Nehru Port Trust (JNPT) has kept its chin above water in FY21.

Container handling registered throughput of over 4.7 million twenty-foot equivalent units (TEUs) Vs.5.03 million TEUs during FY20, and total traffic stood at 64.81 million tons Vs. 68.45 million tons in FY20.
Total container traffic handled in March 2021 stood at 527,792 TEUs, which is the highest container volume handled in a month since inception. The total traffic handled during the same month stood at 7.33 million tons Vs. 5.93 million tons in March 2020, up 23.53%.
Avg. Turn-round Time of all vessels improved 2.62% i.e from 29.42 hrs to 28.64 hrs as well as for container vessels by 2.01% i.e from 25.82 hrs to 25.30 hrs from Pilot Boarding to De-boarding in FY 21 in comparison with FY20.
JNPT BPCL Liquid Cargo Terminal handled the highest quantity of LPG during FY21 at 1.04 million tonnes from 70 vessels, up 22.35% higher over previous highest of 0.85 million tonnes from 57 vessels in FY20.
The port also handled 6,097 Rakes during FY21 and the Rail-Coefficient in FY21 (Apr. to Mar.) was 19.73% versus 16.14% in FY20's 5,127 rakes.