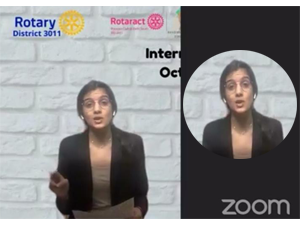 Team India emerged as proud winners of the International Rotary- Rotaract debate held on October 18, 2020.

The virtual competition had participants from 13 countries including Germany, Italy, and the United States of America, and followed after an elaborate elimination process held at both the regional and national levels.
The team representing India, consisting of a B.Com Sociology (Honours) student of Jesus and Mary College, Delhi, Ms. Pramiti Singh, and her teammate N Ishani, had previously placed first in both the regional and national levels of the debate competition. The duo tackled a wide array of debates on issues of social, economic and political relevance, finally advancing to compete at the global level.
Having spent more than a month preparing and competing in the various rounds, the two finally won the debate on whether referendums are essential for global peace and development.
Pramiti Singh, ~~who has just completed her studies at the ~~ A FINAL YEAR STUDENT the University of Delhi, said: "I believe that the opportunity to represent India and speak on such pertinent issues on a global platform has been a truly rewarding experience. I hope that this is the first of many."