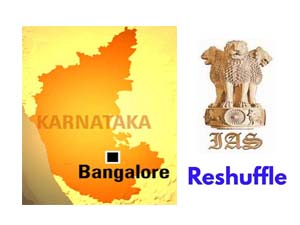 New Delhi (15.02.2021): The Karnataka Government transferred 42 IAS officers of commissioners and deputy commissioners rank on Saturday. This is said to be the biggest reshuffle of IAS officers since BS Yediyurappa returned to the office of Chief Minister in 2019.

Officers have noted with particular interest the change of guards in the departments of health, urban development, and culture.
Among the officers transferred figure the name of senior officer Dr KV Thrilok Chandra who has been appointed as the new commissioner of Karnataka Health, Family Welfare and Ayush Services replacing Pankaj Kumar Pandey. Earlier, Chandra was heading the Covid-19 Critical Care Support Committee.
Tushar Girinath, Principal Secretary, Cooperation Department, has been transferred as Principal Secretary, Urban Development replacing Dr J Ravishankar, who has been transferred to the Kannada and Culture Department. Rashmi Mahesh, who was Secretary to Kannada and Culture Department, has been transferred to Backward Classes Welfare Department.
The DCs of Tumakuru, Kolar, Chamaraja-nagar, Uttara Kannada, and Bengaluru Rural were assigned new responsibilities. Similarly, a number of Dy DCs has also been moved.