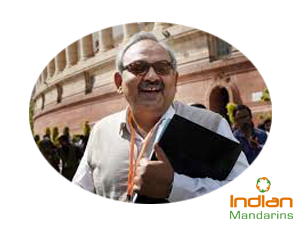 New Delhi (20.02.2021): Former CAG/HomeSecretary/Finance Secretary Rajiv Mehrishi (Ret IAS:1978:RJ) thought that retirement had freed him from the thraldom of power. He has been since retirement living out a peaceful existence in his favorite town called Jaipur.

But a few days ago, Mehrishi, who was also the CS of Rajasthan before being made the Union Home Secretary, got the shock of his life. Last Thursday, two days ago, he might have felt as powerless as a helot - the status most citizens have been reduced to.
On that day at 1630 Hrs in the evening, while cycling on a service lane running parallel to the Rajasthan University main gate, he witnessed two bike-borne snatchers slowed near him, grabbed his mobile from the mobile stand fitted on his bicycle, and sped away.
After returning home, the former CS intimated the police about the incident. "We have lodged an FIR and special teams are on the job to trace the assailants," said Jaipur Commissioner of Police Anand Srivastav.
But the police, as is usual, was initially in denial mode.
What happened to Mehrishi is said to have become common in recent months in Jaipur as well as in the whole of Rajasthan. Media reports blame heightening maladministration as responsible for an unprecedented spurt in petty crimes in the state, particularly in Jaipur and other famous cities.
(By MK Shukla & Rakesh Ranjan)