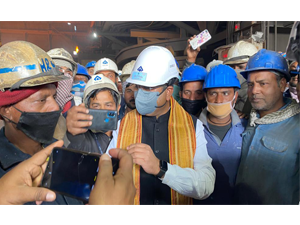 Minister of Steel Dharmendra Pradhan visited SAIL's Steel Plant in West Bengal, on 18 December 2020. During the visit, Pradhan made a remark while analyzing the performance of Steel Authority of India Ltd (SAIL) IISO Steel Plant (ISP) and Durgapur steel plant (DSP). Ministry said in the statement…

"Outlining the role of SAIL plants which are based in the eastern region of the country in Mission Purvodaya, Pradhan said that both plants have an important role to play in the development of the eastern region as well as the nation,"
Purvodaya Mission, which focuses on the growth and development of eastern India through the creation of an integrated steel hub, was launched by Steel Minister in January 2020.
Pradhan, also visited the important areas of both the steel plants such as- Blast Furnace, Bar Mill, Universal structural mill, The Bloom-cum-Round-Caster and the wheel and Axle Plant as a part of the review. He said that "Many of the products of these two steel plants are already contributing towards imports substitution and strengthening the 'Atma-Nirbhar-Bharat' to transform logistics and utility infrastructure in eastern India.
Besides, this mission is not only under the development of the steel industry but also includes employment opportunities across the entire supply chain to emphasize vocal for local.