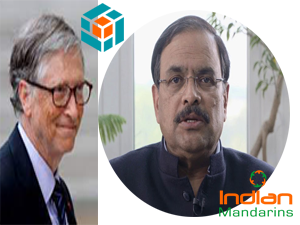 New Delhi (06.06.2021): Exemplars Global Health (EGH), a leading resource center for global health decision-makers, has reportedly invited Chandra Kishor Mishra (Retd IAS:1983:BH), former Union Health & Family Welfare Secretary, to join as a Senior Member of its 'inaugural and first' Advisory Board for a two-year term.
EGH is currently incubated at Gates Ventures, the private office of Bill Gates, in collaboration with the Bill and Melinda Gates Foundation.
EGH has been working to help country-level decision-makers, global partners and funders make strategic decisions, allocate resources, and craft evidence-based policy in consultation with both their global peers and technical advisors.
According to a note on EGH's functioning, Mishra's job may include bringing together "experts funders and collaborators around the globe with the mission of identifying positive global health outliers analyzing and understanding what makes these countries successful and disseminating the core learnings so they can be replicated in comparable settings".
(By Rakesh Ranjan)