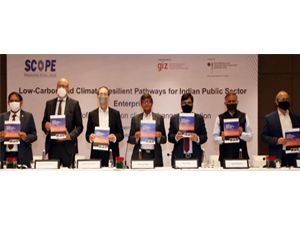 New Delhi (22.09.2021): Amid the several initiatives taken by India to fulfill its commitment to reduce its carbon footprint as part of the Paris accord on Climate Change has come the efforts by the Standing Conference of Public Enterprises (SCOPE) to inspire and train PSUs in containing emissions from their factories.

For this purpose, the organization entered into a collaboration with the official German development agency GIZ and has produced a comprehensive and implementable report.
The report lays down the direction on 'Low-Carbon and Climate-Resilient Pathways for Indian Public Sector Enterprises- Training and Capacity Needs Assessment.
Given the fact that PSEs are involved in hard-to-abate sectors creating an inherent impact on the environment, SCOPE has collaborated with GIZ to inform and guide the PSEs on how they should proceed in their respective areas.
Primarily, the report addresses the issues coming in the way of building capacities in the PSUs for developing climate-resilient pathways. It suggests how the PSUs could help India achieve its emission commitment. More studies & research, workshops, pilot initiatives, and e-certification courses are recommended to bring about awareness to mitigate climate changes.
The SCOPE and GIZ collaborative report was released for public and industry in the presence of Gurdeep Singh, CMD, NTPC; Agrim Kaushal, Adviser, DPE, Ministry of Finance; Dr. Steffen Koch, Minister & Head of Economic Department and Globalisation, German Embassy; Mohamed El-Khawad, Cluster Coordinator, GIZ India; O.P.Singh, Director, ONGC; Santanu Roy, ED, GAIL India Limited and Atul Sobti, DG, SCOPE.
The report's launch was attended by several senior officials of PSEs from all over the country.
Gurdeep Singh stated that Climate Change is invariably one of the most pertinent topics today and enunciated that though PSEs are undertaking individual actions, there is a need for synergized efforts for which SCOPE can create a confluence of ideas by PSEs towards achieving various sustainability targets as a nation.
Agrim Kausal addressed the participants by appreciating SCOPE on the apt timing of the study as the Climate crisis is among the top concerns globally and encouraged participants to analyze and prepare pathways for a green plan.
Atul Sobti described the report as a game-changer and not a mere desk study. He emphasized that besides skill enhancement, a pipeline of activities in the form of Compendium and short features to highlight the innovations and initiatives towards reducing carbon footprint by PSEs is also being developed.
Mohamed El-Khawad stated that as Climate Change impacts the triple bottom line of business which is economic, environmental, and social so PSEs need to be involved strenuously for which this study is an important referral point.
Describing GIZ-SCOPE collaboration as an imperative step in Indo-German partnership, Dr. Steffen Koch said that PSEs through efforts like low Carbon emissions have been meeting strategic climate targets but as they are strategic for the nation's climate agenda more needs to be done.
In his closing remarks, O P Singh congratulated SCOPE for the launch of a very critical study and emphasized on synergizing efforts of the PSEs.
Santanu Roy delivered the vote of thanks and complimented SCOPE on a very important study.
(By Rakesh Ranjan)