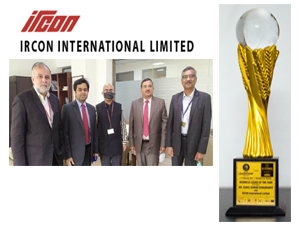 New Delhi (23.02.2021): Team Ircon International Limited (IRCON), led by its CMD Dr. S.K. Chaudhary has won six awards instituted by the ET Now as part of its 19th Global edition and the 4th India Edition of World Leadership Congress & Awards.
ET Now's Business Leader of the Year Awards 2020 ceremony took place in Mumbai from February 16 to February 18.
At the ceremony, IRCON won four collective awards of Excellence in PSU - Dream Companies to Work for in PSU category, Best Covid-19 Solutions for Workforce Management, Best Corporate Social Responsibility Practices, and Dream Companies to work for (Among Top 20 companies).
In addition, Chaudhary won two awards in the individual category for his exemplary and inspirational leadership – 'Business Leader of the Year' and 'Visionary Leader Award.'
In December 2020, Chaudhary had been recognized as an 'Eminent Engineer' for the year 2020 by the Institution of Engineers (India). The institute presented the award to Chaudhary for his significant contribution to the advancement and application of the practice of engineering in India.
In addition, Chaudhary has distinguished himself by winning a number of other awards. They are Exemplary Leader of the Year by World HRD Congress, ET Now Business Leader of the year Award 2020, Governance Now 7th PSU leadership Award 2020, ET Now's CEO with HR orientation Award 2019, and Outstanding Global Leadership Award by Institute of Economic Studies 2019. He has also been recognized as distinguished alumni of the DCE-DTU Alumni Association of Delhi College of Engineering in the year 2017.