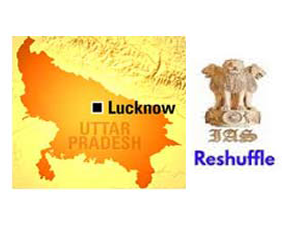 Lucknow/New Delhi (20.07.2021): The Uttar Pradesh government carried out the transfer and gave new assignments to six IAS officers in a minor reshuffle.
P Guruprasad (IAS:1999:UP) has been appointed as Managing Director, Vidyut Utpadan Nigam.
Rigzian Samfil (IAS:2003:UP) who was the Excise commissioner has been removed and sent on waiting.
Senthil Pandian C (IAS:2002:UP) has been appointed as the new Excise Commissioner.
Anamika Singh (IAS:2004:UP) has been appointed as Secretary, Basic Education. Till now Ranvir Prasad (IAS:2000:UP) was holding an additional charge of Secretary Basic Education.
Saroj Kumar (IAS:2008:UP) has been appointed as special secretary of APC branch. He was suspended by Chief Minister Yogi Adityanath from the post of MD Purvanchal Vidyut Vitran Nigam and was reinstated three days ago.
Shahid Manzar Abbas Rizvi (IAS:2006:UP) who was awaiting posting, has been appointed as Special Secretary APC Branch.