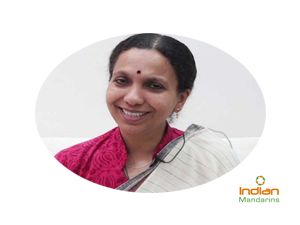 New Delhi (31.03.2021): The 1991 Batch Gujarat Cadre IAS officer, Dr. Jayanti S Ravi, may be appointed as Secretary to the Auroville Foundation (Puducherry) under the Ministry of Human Resource Development. Presently, she is Principal Secretary, Department of Health & Family Welfare, Government of Gujarat.

She is seen as spiritually inclined as she sings bhajans, recites shlokas, narrates stories, and shares spiritual experiences. Jayanti's son Adit Ravi, an IIT-an plays the flute during Dr. Jayanti's performances.
In her classical vocal performances, she often underlines 'the poverty of richness' and emphasizes immaterial pursuits while delivering spiritual discourses.
Earlier, though, certain media reports had speculated about her posting as the Lieutenant Governor of the UT.
Dr. Ravi holds an MSc degree in nuclear physics from the University of Madras and a Doctorate in Business Management. She is also a visiting faculty at Harvard University.