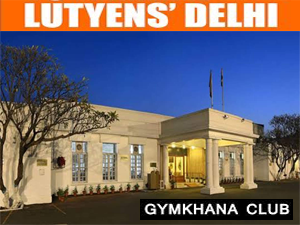 New Delhi (17.02.2021): Speculations have been rife whether India International Centre (IIC) too will get an official administrator after the DGC, as both of them are seen in the ruling political echelons as the "den of Khan Market gangs".

Indeed Delhi's Gymkhana Club and India International Center suffer from the same malaise: both are run by aged and long-retired civil servants and military officers who show an absolute unwillingness to let new generations of officers enter their 'monopolized' precincts in the fear of losing out their vice-like grip over these two old clubs.
The situation is so bad that if a young civil servant or military officer wants to become a member of the club, they may have to wait beyond their natural death. This situation is in sharp contrast to how the two clubs lapped up new members from civil services and military till 1985-90.
This has triggered off its own dynamics. Both clubs have miserably missed out on new blood that could pull them in the direction of 21st-century thoughts, norms, and conduct. Hence, the finances of both clubs are in a mess. It may not be an exaggeration to say that both have been surviving on the ventilators of corporate membership and corporate donations.
Even as retired know-all civil servants have proven beyond doubt that they are incapable of running small fiefdoms like DGC and IIC, some of them have the cheek to form what is called the 'constitutional conduct group' (CCG) and the temerity to make unsolicited advice to the government from 2018 onwards how to conduct itself. And the frequency of such advice only increased before the 2019 general election and subsequently whenever the government moved to implement its election promises.
True, the vanity of these retired civil servants might have been stoked not because of their contributions, if any, to governance, but because of the dubious 360-degree assessment of officers introduced by the NDA government, under which retired civil servants were given the open window to vent their opinions on serving civil servants.
Thus began the new phase of covert hostility between serving and retired officers, replacing the old one of respect and consideration of the highest order.
This has only added to the continuing conflict between retired and serving civil servants on the membership issue of the DGC and IIC. Since the political establishment has also come to view the CCG as a cabal that indulges in poisonous gossiping, whispering, and plotting, serving civil servants can't but have a heartful go at, and sweet revenge against, the lot who might have contributed to ruining their career chances.
So, both the DGC and IIC, which grew on the strength of membership of new and newer generations of civil servants and military officers as well as attendant political patronage in the first few decades of independence, are on the cusp of great transformation and democratization as the balance of political power tilts in favor of young blood.
(By Rakesh Ranjan & MK Shukla)