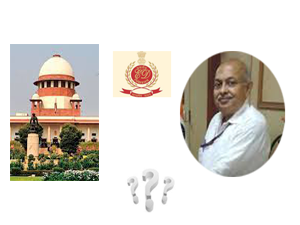 New Delhi (07.04.2021): On April 16, 2021, ED's Director Sanjay Kumar Mishra's retrospective extension of service from two to three years will open up for arguments at Supreme Court as part of a PIL filed on the issue.

As reported first by Indianmandarians, Mishra's career may not be impacted because of technical weaknesses in the PIL.
Solicitor General Tushar Mehta has already informed a bench of Justices L Nageswara Rao and Vineet Saran early this week that the government was ready to file its reply and will do so as directed by the Court.
The PIL states that though Mishra, an Indian Revenue Service officer, was appointed as the ED Director for two years by an order of November 19, 2018, by an order of November 13, 2020, his appointment letter was modified retrospectively by the central government and his term of 'two' years was replaced by 'three' years.
The PIL argues that Mishra could not have been given an extension since he reached the age of 60 years in May 2020 and, therefore, the retrospective extension was 'illegal' and could impact the independence of the office of the Director.
The PIL has argued for nullifying the extension given to Mishra and for the appointment of a new ED director in an open and transparent manner.
ALSO READ:
"Modification": ED Chief gets extension albeit in a different way

(Report dated 14.11.2020)
ED's extension of service challenged

(Report dated 27.11.2020)