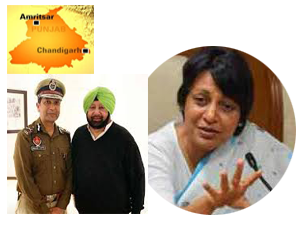 Chandigarh (22.09.2021): After the new chief minister taking over in Punjab, the state is all set to get a new DGP as well. A long deliberation took place between Chief Minister Charanjit Channi and some senior Congress leaders over the selection of the new DGP.

Sources informed that they shortlisted the eligible officers but the final nod would be given by senior Congress leader Rahul Gandhi. The new CM favours Iqbal Preet Singh Sahota, who belongs to the Scheduled Caste community. Already the Dalit CM has appointed IAS Hussan Lal, an SC official, as his principal secretary.
The Congress high command wanted a balance in the caste equation. The names Sidharth Chattopadhyaya (IPS:1986:PB), VK Bhawra (IPS:1987:PB) and Iqbal Preet Singh Sahota (IPS:1988:PB) are doing the rounds. All these officers have more than six months of service left making them eligible for the post.