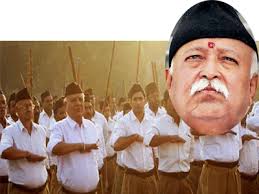 New Delhi (12.07.2021): In a major turn of events in the RSS just before Assembly elections in five states, Sahsarkaryawah (Joint General Secretary) Arun Kumar has been entrusted with the responsibility to coordinate with the BJP as RSS representative. Earlier the responsibility was with another Sahsarkaryawah Krishna Gopal.

Krishna Gopal was given this responsibility in 2014-15 when the Narendra Modi government took over at the Centre for the first. This responsibility is very important as the person has to coordinate with the BJP leadership from across the country. Akhil Bharatiya Prachar Pramukh Suni Ambekar confirmed this appointment by saying this as a routine exercise.
However, there were some issues regarding coordination so even the present general secretary Dattatreya Hosabale too was sent to UP on many occasions to look into the matter when he was a joint general secretary. But after changes were made in the RSS recently and Dattatreya Hosabale replaced Bhaiyaji Joshi as general secretary and Arun Kumar was elevated to joint general secretary from Akhil Bharatiya Prachar Pramukh, such developments were inevitable. Reportedly, Hosabale and BJP president J P Nadda get along very well.
The role of RSS representative coordinating with the BJP is very important. Besides managing elections and various other things in the BJP, the changes enacted in the RSS also suggest that the new leadership is taking over and a generational shift is happening in the organisation. Some more changes at prachar pramukh level is also awaited in the ongoing meeting of the RSS in Chitrakoot.