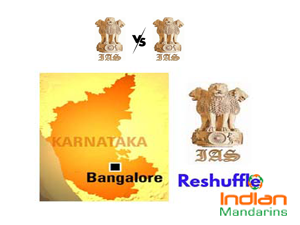 New Delhi/Bengaluru (07.06.2021): Having failed to resolve the differences between Mysuru Deputy Commissioner Rohini Sindhuri and Mysuru City Corporation Commissioner Shilpa Nag, the Karnataka administration transferred out both IAS officers from Mysuru to prevent further politicization of the issues regarding Covid management.

While Sindhuri was transferred to the Muzrai (Hindu religious matters) department as commissioner, the post which she held earlier, Nag was moved out as the Director (e-governance) RDPR, Bengaluru.
Last Friday, Chief Secretary P Ravi Kumar reprimanded Nag for going to the press against Sindhuri without raising a formal complaint with her superiors.
Sindhuri is replaced by her batchmate (2009-batch), Dr. Bagadi Goutham, who earlier served as Chikkamagaluru DC and was with the commercial taxes department as additional commissioner.
Nag is replaced by Lakshmikanth Reddy, who has been moved from the position of MD of Karnataka, Food and Civil Supplies Corporation.
Further, the state government also made a few additional changes. P Rajendra Cholan has been appointed as Bescom MD, moving out Rajesh Gowda MB who would be assigned his new responsibility later. Rajendra will, though, continue to serve as the special commissioner of Health and IT at the BBMP as an additional charge.
Dayananda K A, who was commissioner of the Muzrai Department, has been posted as Special Commissioner (Administration) at BBMP.
ALSO READ: