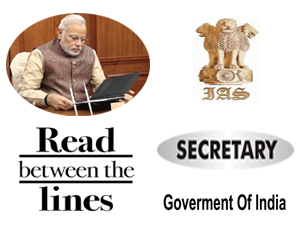 New Delhi (23.09.2021): Domain expertise and affirmative framework mark the latest major Secretary-level appointments at the Centre. This may seem to suggest that PM Narendra Modi has come to grasp that his governance signature must tilt in favour of subject specialists if the public and analysts have to see top-level appointments as targeted at establishing good administration, for which there is no substitute.

Readers may recall that Indianmandrins was the first to hint at the possibility of a wholesale Secretarial appointment to remove nagging and lingering doubts about the government's commitment to maximum governance through efficient administration.
With those doubts removed, the latest appointments, excluding three, were done to move the 1989-batch officers to their aspirational and final posting as they were empanelled in February 2021 and were rather turning despondent with days passing by without bringing any good news for them.
Excluding Pradip Kumar Tripathi (IAS:1987:UT), Rajiv Bansal (IAS:1988:NL) and Ms. Anuradha Prasad (IDAS:1986), the entire list of 22 appointees has only 1989 batch IAS officers. Of 22 posts, 13 are regular secretaries whereas 9 were elevated (in-situ) as Special Secretary to the rank and pay of Secretary to Government of India.
Unlike the past when secretaries were also laterally shifted in reshuffles, this time only Steel Secretary P K Tripathi was conferred this favour to avail of his domain expertise in the DoPT where he had worked earlier as Establishment Officer (EO) and thus knew the nuts and bolts of this sensitive department. This also helped scotch the rumour that he had been side-lined.
Like Tripathi, Rajiv Bansal too was subjected to wild rumours about his being side-lined. His appointment as Civil Aviation Secretary must have sent rumour mongers to their nightmarish sleep. Bansal is to replace Pradeep Singh Kharola who is retiring at end-month.
Sticking to the domain specialization principle, Sunil Barthwal (IAS:1989:BH) was moved from the position of Central Provident Fund Commissioner to the related Labour & Employment portfolio.
Former PMO official Anurag Jain (IAS:1989:MP) is put in charge of the Department for Promotion of Industry and Internal Trade (DPIIT). North-East cadre (Tripura) officer Lok Ranjan (IAS:1989:TR) is assigned to the Ministry of Development of the North Eastern Region (DONER). Earlier, even senior bureaucrats raised questions over the rationale of giving the socio-economically and culturally complex domain of DONER to Naveen Verma (Bihar cadre IAS) and Inder Jit Singh (Kerala cadre IAS). So Lok Ranjan's appointment is seen as plugging a critical gap.
However, the appointment of Govind Mohan (IAS:1989:SK) in the Ministry of Culture is seen as the only exception to the general rule of domain knowledge and expertise followed in the latest appointments. There is a general impression among his colleagues that he was better qualified for portfolios like DEA, MoRTH or DPIIT. But considering the importance of the Culture Ministry in the scheme of the ruling BJP and Sangh Pariwar, Mohan's appointment can be termed significant though for a while.
Finally, reflecting the government's commitment to affirmative gender equality, Ms. Ansuli Arya (IAS:1989:BH) is made Secretary to Department of Official Language, Ms. Sujata Chaturvedi (IAS:1989:BH) as Secretary Sports, and Ms. Anuradha Prasad (IDAS, 1986) Secretary to, Inter-State Council Secretariat (MHA).
Further, it is pointed out that since nine additional secretary rank IAS officers were empanelled for holding Secretary-level posts level posts and were in-situ promoted as Special Secretary in the rank and pay of Secretary to the Government of India, three of them could have been drafted for secretary-level posts in Steel, Drinking Water & Sanitation and Border Management which have been left vacant for unknown reasons.
Another significance of the latest appointments lies in the fact that it has cleared the decks for officers awaiting their turn for posting as secretary-equivalent, and Additional Secretary at Centre.
A number of critical vacancies need to be filled urgently. They are Air India, IWAI, NHAI, Central PF Commissioner, Vice Chairman DDA, Establishment Officer, Additional Secretary in Home, DOPT, Economic Affairs; Administrator, Universal Service Obligation Fund; AS&FA Oil Ministry; Development Commissioner, MSME; CEO & MD of National Industrial Corridor Development Corporation Limited, etc.
Hopefully, when the PM returns from his overseas missions, he may be able to find time to fix appointments to these equally critical organizations.
ALSO READ:
Major Union Secretary rank appointments effected (22.09.2021)

After providing immunity PM motivates union secretaries to gear up (19.09.2021)

With seven union secretaries retiring this month, the tally may touch 20 mark (17.09.2021)

Thirteen Secretary-rank post vacant at Centre: Despondence grips IAS officers empanelled for Secretary post (16.09.2021)